Views) :
Herpetology Expert Says Human Encounter With A Crocodile In The Sea Is Rare, Only Happens When They Migrate From One Channel To Another; vigilance if there is a crocodile in the waters would be the best way to prevent an attack
There is panic………of the men, women and children who usually crowd the sunny beaches of Bambalapitiya, Wellawatte and Dehiwela, dipping their feet in the ebb of the waves, bathing in the shallow waters or taking their fishing boats at sea, hesitate.
A crocodile was spotted in the waters off Kinross this week, while another had been spotted near the harbor town. It was while Colombo was gripped by shockwaves when a man snorkeling in the middle of a reef-strewn area between Dehiwela and Mount Lavinia drowned after being attacked by a crocodile on January 3.
It was a first in Sri Lanka: a human being attacked by a crocodile in the sea!
Stressing that there is little humans can do if confronted with a crocodile in the sea, herpetology expert Dr Anslem de Silva says vigilance if there is a crocodile in the waters would be the best way to prevent an attack.
"Such a scenario is a rarity. Only occasionally does a human come face to face with a crocodile in the sea, as these reptiles only use the sea route when migrating from channel to channel. They prefer the sea route to the land route," he says.
The 'Salé', according to this expert, generally migrates from the Wellawatte Channel to Bolgoda or even Panadura using the sea route. It can tolerate and survive in salt water by excretion through its salt glands.
When asked why the man snorkeling might have been attacked by the crocodile, Dr de Silva says he suspects the fins the victim was wearing might have attracted the crocodile.
"It is possible that the crocodile confused the human with a turtle, whose flesh a Salty savors", he explains, stressing that "it may have been a mistake of identity". Autopsies on dead crocodiles indicated the feeding habits of Salty – pieces of carapace (the hard upper shell) of chelonians (turtles and tortoises).
Dr de Silva says studies around the world have also shown that a human's position in water may have greater risks associated with attacks. Swimming in deep water in crocodile habitat or deep water attacks presented the greatest risk to survival.
Sri Lanka has two types of crocodiles:
The saltwater or estuarine crocodile (porous crocodylus) – It is a large crocodile, the males reaching a maximum length of 7 meters. Its muzzle is narrow compared to the Mugger, and its distinct external feature is its warty scales on its neck resembling a jakfruit.
The saltwater crocodile lives mainly in the east, west and on the southern coast of the country.
It is found in tributaries of rivers (such as Nilwala in Matara); swamp (like Muthurajawela); and brackish water lagoons fringed by mangroves (such as Bolgoda, Panadura, Lunawa and Negombo).
This crocodile is generally a solitary animal and is known as the Gata Kimbula in Sinhalese (due to its bumpy skin) and Semmukku Muthalei (due to its coppery color) in Tamil.
The Crocodile Mugger or Marsh (Crocodylus palustris) – It is smaller than the saltwater crocodile and is found in reservoirs in the dry zone plains, which stretch from Jaffna to Yala. The latter is a "paradise" for the Mugger.
It is called Hela Kimbula in Sinhalese.
Looking around the world and citing studies, Dr. de Silva answers the question: Why do crocodilians attack humans without any provocation? He gives four reasons. They are:
Hunting for food: All crocodilians are opportunistic feeders, eating a wide range of prey. With increasing body size, crocodilians shift to larger prey, and humans are well within the size range of prey they can capture.
Defense of the territory: Some species, such as saltwater crocodiles, are very territorial and will defend their territory against intruders, including humans.
Defense of the nest and/or the young: Most species of crocodilians exhibit some form of nest defense. Although the exception to this is the Australian freshwater crocodile, which in the wild does not defend its nest, but may do so in captivity, at the other extreme is the female water crocodile. salty. It will vigorously defend its nest to deter predators and/or intruders, whereas other species are much less likely to do so against humans. Crocodilians will also respond to distress calls (vocalizations) from their young.
A mistake of identity:It is possible that some attacks are directed against dogs or other animals accompanying people, the latter being bitten by mistake.
Dr de Silva refers to a "famous" Salty who lolled on the banks of the Wellawatte Canal next to an international school and was named "Bertrum" after a teacher the pupils disliked.
He relives his childhood, how during school holidays he spent time in Hambantota with a relative and used to see bullies on the banks of tanks. One day, his friends had come across a newborn saltwater crocodile in the Nilwala River in Matara Fort and gave him an "unusual" gift. It was in 1952 and he was 12 years old.
Please let the stranded crocodile leave the sea and go on its way

While urging people to allow the saltwater crocodile in the waters off Wellawatte-Dehiwela access to a moya kata (where the canals flow into the sea) to allow it to continue on its migratory route, a Senior wildlife official said 'live traps' had been set for the smaller one spotted near the port town.

Wildlife health director Dr Tharaka Prasad of the Department of Wildlife Conservation (DWC) said it would be difficult to catch the biggest Salty spotted off Wellawatte-Dehiwela with live traps because the waves are strong and the sea rough.
He regretfully refers to an incident about two years ago when people blocked a moya kata and a crocodile died. Crocodiles are protected species in Sri Lanka.

It is normal that these crocodiles use the sea route for their migration to other areas and it is unfortunate that the person snorkeling was grabbed by the shoulder by the crocodile. This person may have choked on his snorkeling gear and drowned when the crocodile dragged him to the seabed. The DWC's Western Province Rifle Range office in Bellanwila is on high alert.

He explained that as crocodiles are cold blooded creatures, they cannot regulate their body temperature. So when they are at sea, to regulate their temperature, which drops because the sea water is cold, they need to come and rest.

Emphasizing that he understands the feelings of the Kupitha Wechcha people, Dr. Tharaka asks them, however, to allow the stranded crocodile to leave the sea and continue on its way.
"Although he was just a newborn and making the usual distress calls, he was fierce and bit me and my mum. However, I found that every time I caressed his belly, he made a croaking sound, closed his eyes and remained still and relaxed," says Dr. de Silva wistfully, dwelling on how the little croc was kept in a 1.5 x cemented tank. 1 m and ½ m deep.
He adds that a few years later he was released into the Nilwala River where he believes he was reunited with his parents, brothers and sisters.
More recently, in 2018, Dr de Silva visited the Andaman Islands at the invitation of the Wildlife Institute of India after a crocodile killed a tourist bathing in the sea.
With tourism being the mainstay of the Andaman and Nicobar Islands, a workshop in Port Blair attended by Indian and Andaman forest and wildlife officials developed an action plan to mitigate human-crocodile conflict in the region.
Some time ago, another saltwater crocodile was also caught in the sea by fishermen in southern India and handed over to the Madras Crocodile Bank. He had sailed from Sri Lanka to southern Indian waters and got entangled in a fishing net, he added.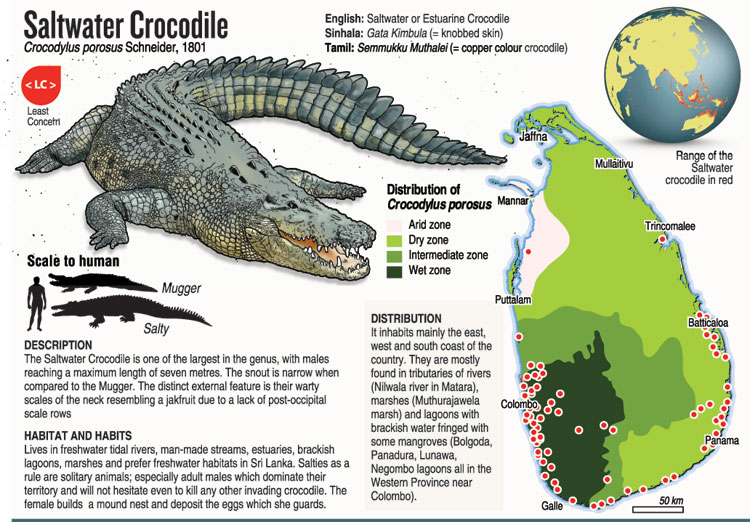 When people were fed to crocodiles

In his book "The Crocodiles of Sri Lanka" published in 2013, Dr Anslem de Silva sheds light on how crocodiles were used to kill humans centuries ago.

During the early Portuguese period, Sinhalese captives had been thrown to the crocodiles at Malwana, Kalutara and other river forts, including Kayman's Gate in Colombo.

This had led to crowds of crocs slinking in, gaping at the sound of a hissing sound that signaled they needed to go get some food. During the Nikapitiya rebellion, more than 100 villagers were massacred and fed to crocodiles.
The best way to say you've found your dream home is to find it on Hitad.lk. We have listings of apartments for sale or for rent in Sri Lanka, whatever location you are looking for! Whether you live in Colombo, Galle, Kandy, Matara, Jaffna and more – we have them all!