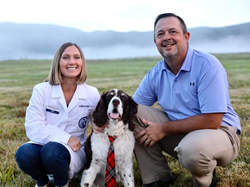 Identity Pet Nutrition, a Littleton, Colorado-based manufacturer of luxury human-grade wet dog and cat food, has hired Jason Petercheff as National Sales Manager.
After three and a half years of rapid growth and the launch of 32 new products, the company continues to evolve for continued acceleration in the neighborhood pet specialty channel, company officials said.
Petercheff brings several years of experience in the pet food industry, having previously worked for over 9 years at pet food manufacturer Vital Essentials and pet food distributor Pet Food Experts.
"Jason is a respected, talented, unique and personable sales professional. His accomplishments speak for themselves. He demands accountability and expects results, while ensuring retailers have the tools to succeed. He has an unfounded passion for seeing small businesses thrive. We searched everywhere for the right person to fill this role and knew he was the perfect fit 2 minutes into our initial conversation," said Jeremy J. Petersen, Founder , President and CEO of Identity, "His day-to-day retail experience, combined with his growth mindset and business acumen, made him the perfect fit for Identity."
Petercheff brings tremendous sales management experience and a passion for pet health to Identity, the officials added. He will be directly responsible for generating revenue in physical pet stores nationwide.