Former England flanker James Haskell has opened up about his mental health issues and lack of self-confidence that has plagued him since his school days.
Haskell – who was talking about mental health on the Beneath the surface podcast – said he felt like he lost his identity when he retired from playing in 2019.
The 6'4, 19 stone flanker carved out a career as a DJ, podcast host, author and TV personality, but reveals losing his identity when he retired from professional rugby was like pulling the "pin out of a grenade".
"My sanity was tested more in retirement, where you lost your identity. I was James Haskell the rugby player, that's how I was defined. It was Saturday, Sunday I retired and Monday I was James Haskell – who the hell is James Haskell? He went to boarding school from 10 to 18, was a professional rugby player from 18 to 35, surrounded by men all his career, had a routine all his career.
"It's like an animal that you can't release back into the wild, like a lion that's just waiting for dinner – you're definitely going to get eaten in the real world.
"That's the hardest part – losing that identity, and what are you going to do? That's why you see so many players struggling with mental health issues after retirement. They've probably had it their whole career, but it sends you over the cliff. You don't have the structure, the routine, the ability to disconnect. Take it all away and leave them alone. It's pulling the pin out of the grenade and throwing it into your life, and waiting to see how it explodes.
Haskell says he's worked with a psychologist since he was a teenager, and behind his brash, outgoing public persona is someone riddled with insecurities.
"I worked very early with a psychologist from the age of 17 because, unlike the person you can see on camera, I was not always the most confident. I didn't think I was very good at rugby, and I still have it now – where I can only dwell on the negatives of what I did instead of being totally confident.
"If you raised your hand in the dressing room and said how many people see a psychologist, I would have been the only one."
The flanker also likens players going to online forums and social media platforms to a form of self-harm.
"I went on one of these forums after my debut and it was like 'he sucks', 'he shouldn't play anymore'. Continuing is like a form of self-harm. I've studied a lot why people do and why social media is so dangerous – it's basically about reassurance. It's such a dangerous game, but you're looking for an affirmation. It's the same as when you say something rude to your friends, then that you push them to say "I'm fine, my friend", to reassure them a little. You are looking for this humanity, is everything okay?
"You suddenly value people you've never met. It never occurred to me to go to an online journal, create an account to comment, then go in there and insult everyone. You must be a certain type of person. When you look at psychology, they're all vying for some sort of horrible people mob mentality. But the strangest thing is that they don't know that they are horrible; because it is their sphere.
The loose 77-cap test thinks people need to prioritize their mental health over how they do their physical health.
"If I told you that you could run faster by buying these new sneakers; you would buy them. If I told you that you would look slimmer wearing that shirt or taking that pill; you would do it in a heartbeat. But the mind is the most powerful tool you have that controls everything you do, from how you sleep, how you talk to people, your inner voice – it's something that needs to be managed. Like your diet. Like your physical health. It is an integral part of it. It's the last thing we leave, but it's the most important thing you have.
"If I told you I could change the way you feel at work, the way you handle your own personal relationships, the way you handle sadness, the way you handle happiness, make you more efficient, you to sleep better and to perform better in all areas of life – but, you need to talk to someone who would give you tools to change it, most people wouldn't. Because most people don't understand it.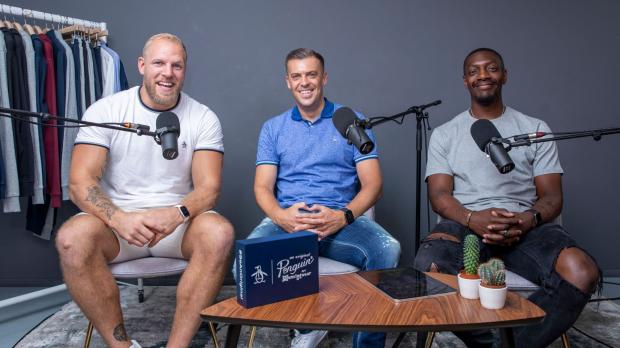 "For me, mental health is sometimes misqualified. It is a question of speaking, but of acting. Talking without doing gets you nowhere, it makes no difference. It's about asking 'where can I find the tools to act' – and you'll have to shop around, the same way you go to different clothing stores and the fit might not be the right one. You need to find the right therapist that you click with and are willing to be vulnerable with.
Haskell spoke on the Original Penguin X Campaign Against Living Miserably Under The Surface podcast
comments
Sign up for free and let us know what you really think!
Join for free